LECHTENBERGER, Richard Lee
LECHTENBERGER SASS THOME MASTEN JOHNSON FERGUSON
Posted By: Tony Mercer (email)
Date: 3/9/2019 at 07:42:44
Richard Lee LECHTENBERGER, 75, of Creston, went home to be with his Lord on Wednesday September 2, 2015 at the Greater Regional Medical Center in Creston.

Richard "Dick" LECHTENBERGER, son of Henry Frank LECHTENBERGER and Gertrude "Billie" (JOHNSON) LECHTENBERGER, was born December 2, 1939 in Geneva, Neb.

He is survived by his wife Gay Lou (FERGUSON) of Creston; three sons, Mike (wife Diana) LECHTENBERGER of Omaha, Steve LECHTENBERGER of Creston, and Patrick (fiancÚ Carrie) LECHTENBERGER of Irvine, Calif.; six grandchildren, Kyle, Chris, Rachel and Aaron LECHTENBERGER, Dylan (wife Kayla) SASS of Birmingham, Ala. and Ryan SASS of Leeds, Ala.; his mother, "Billie" LECHTENBERGER, a brother, Rodney (wife Mary) LECHTENBERGER of Ft. Pierce, Fla.; a sister, Charlene (husband Bob) THOME of Omaha and brother-in-law, Barry MASTEN of Lincoln, Neb.

Dick was preceded in death by his father, daughter Lisbeth SASS, and sister Connie MASTEN.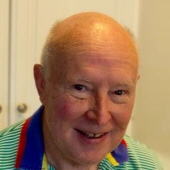 Obituary - Powers Funeral Home

Ringgold Obituaries maintained by Tony Mercer.
WebBBS 4.33 Genealogy Modification Package by WebJourneymen